Pop a batch of these delightful veggie filled Frittata Muffins into your little wicker basket on a glorious day.  Head out on a picnic and spread your rug under a shady tree. Perfect for Mothers Day brunch, spring lunches or a low-carb snack.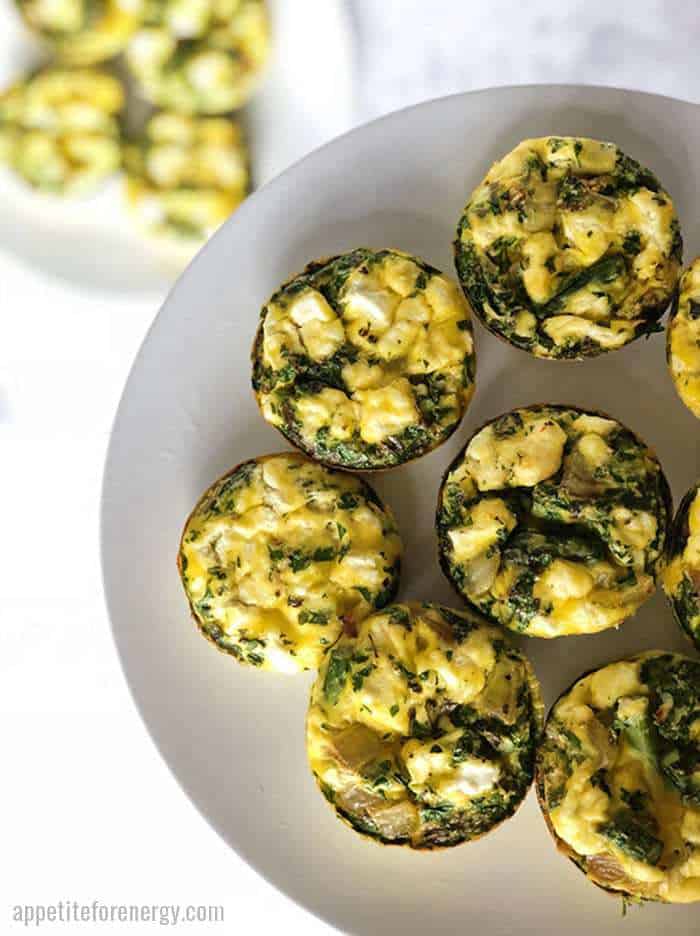 Frittata obsession
I'm slightly obsessed with frittatas and I find them one of the few recipes that I truly enjoy making.
My tendency is to follow recipes precisely, down to the 1/4 teaspoon of pepper required but with frittatas I don't closely follow a recipe. I feel weirdly creative and liberated!
This is probably how cooking is supposed to feel when you're in a state of perfect relaxation and there isn't a stack of school notes to sign and a Mothers Day gift to wrap (and pay for!) If you can relate to this, tell me in the comments below!
I start to toss in leftover chunks of parmesan, a little ricotta, a small handful of fresh fragrant thyme from the garden and some salami that I wasn't sure how to use up.
Ahhh….the dreamy life of a food blogger
I know this could come as a bit of a shock to you, as food bloggers are usually swooning over their stove all day long, stirring pots of gently simmering marinara sauce. They carefully dip a well-worn wooden spoon into the sauce to taste it, before looking slightly quizzical and then sprinkling over a touch of sea salt.
Ha! This couldn't be further from the truth, though there probably are plenty of food bloggers who do just that, maybe for a minute!
I'm usually scrambling around, realizing that I am missing a critical ingredient I need for dinner that night and sending my husband on a last-minute dash to the shops for some coconut milk.
During the day I am juggling work with washing and the forest of email and deciding if I have time to make a recipe and then photograph it before school pickup time (probably not!)
Why does cooking take so long?
I started this blog out of my own frustration with finding myself spending so much time in the kitchen. There just had to be a better way. Cooking, finding and trying new recipes, keeping track of all the recipes, making school lunches and cleaning up…. so much to do in one night.
---
RECIPE MANAGEMENT TIP: I now save all my recipes in the FREE Evernote app which makes finding recipes so easy! You can search easily and create folders for different categories such as recipes to try, chicken recipes, dessert recipes etc.
It also can search words on images, so if you upload a photo taken on your phone of a recipe in a magazine for example, it can find the title or any words in the recipe from the image alone. This is genius! It makes finding that recipe that you know you saved last year simple.
I print out the recipes that I cook frequently and keep them in various folders with plastic sleeves so I can scribble notes on them while I'm cooking.
---
I no longer cook recipes that take more than 30 minutes to make on weeknight. Some of those longer recipes come out on weekends when I'm in the mood.  But during the week, with swimming, soccer and band practice to deliver kids to and from, dinner has to be easy, simple and quick.
As you know, I've committed to sharing all my 30-minute low-carb recipes with you on this blog. It's been an unexpectedly useful journey for me because I've created a batch of recipes that I constantly turn to on busy weeknights (and weekends too).
These are some of our 30-minute low-carb weeknight family favorites:
Best Low-Carb Butter Chicken Curry
30 Minute Low-Carb Burgers With Chipotle Mayo
Low-Carb Herb And Parmesan Crusted Fish With Lime Aioli
30 Minute Low-Carb, Gluten-Free Meatballs
30 Minute Low-Carb Taco Burrito Bowl
Do your kids do this?
In the past, I would try a recipe, then cook it a couple of times, then eventually one child would go "yuck I hate this" (even though they liked it the first time)! Then that recipe would just quietly disappear (cue one very happy child!)
Now I am more likely to tweak the recipe or try a different variation and then once I've posted it here, sorry kiddos – you are stuck with it! As I keep telling them, once something is on the internet – you can't get it back!
The 30-minute low-carb recipe theme also means that I'm super focused and am thinking constantly about what it takes to make a keto meal in around 30 minutes. Can I also make it carb friendly for the rest of my family? If not, then it's probably not going to find its way here.
For ideas on how to create meals that cater to low-carbers are carb eaters, click here.
And you'll also love  7 EASY 30 Minute Low-Carb Meals You Can Adapt For Carb Eaters.
The skinny on mini-frittata muffins
This is where frittata muffins enter the picture. I consider frittatas to be my all time favorite low-carb AND quick to make food.
Whether you make mini frittata muffins or a whole frittata – it can be done in 30 minutes.
I love that you can throw all sorts of different odds and ends in there.
Ingredients to use in a frittata muffin or frittata
Cheese – parmesan, goats cheese, feta, cheddar, brie, halloumi, ricotta, mozzarella (any cheese really)
Leftover cooked vegetables – cauliflower, broccoli, mushroom, spinach or other greens, zucchini
Uncooked vegetables – cherry tomatoes, asparagus*, bell peppers, olives
Cooked protein – ham, salami, bacon & deli meats, chicken, smoked salmon, prosciutto, canned tuna, sausages
Carbs – leftover roast potato & pumpkin, cooked pasta & rice (make some mini-frittatas with carb ingredients and some without)
* In this recipe, the asparagus and onion is cooked first but if you make the frittata recipe as one larger frittata, rather than mini frittatas, the asparagus can be laid across the top and this looks pretty spectacular. The asparagus will cook under the broiler or grill.  See this Frittata recipe for steps to cook a whole frittata in 30 minutes:
30 Minute Leek & Bacon Frittata
How to make mini Spring Asparagus Frittata Muffins
To make frittata muffins, you'll need either silicone muffin cups or a regular muffin tin, lined with muffin cups.
Start by cooking the onion and asparagus for around 5 minutes. While the vegetables are cooking, crack the eggs into a large bowl or jug and whisk. Add in the yogurt (sour cream or heavy cream works well here too), parsley, remaining salt and pepper and mix well.
When the vegetables are cooked, stir them into the egg mixture and you are ready to pour!
Pour or spoon the egg mixture into the muffin cups, making sure that the asparagus is spread evenly amongst the cups.
Crumble the goat's cheese (or feta) over the top of the frittatas equally and then bake for 25-30 minutes.
MIni frittatas make an ideal low-carb breakfast, lunch, snack or Mothers Day Brunch dish.
★ Did you make this recipe? Please give it a star rating below!
Spring Asparagus Frittata Muffins (low-carb, gluten-free)
Pop these Mini frittatas in your basket for a picnic, Mothers Day Brunch, spring lunch or an easy keto snack. Ready in 30 Minutes, they are gluten-free and vegetarian.

Ingredients
2

tbsp

extra virgin olive oil

1

small onion

chopped

½

tsp

salt

divided

1

cup

chopped asparagus

1-inch pieces

10

eggs

½

cup

chopped parsley

¼

cup

plain whole milk yogurt

¼

tsp

pepper

4

oz

goat cheese

crumbled
Instructions
Preheat the oven to 375°F. Line a muffin tin with 12 muffin cups or use silicone muffin cups.

In a large skillet, heat the olive oil over medium heat. Add the onion, asparagus and ¼ teaspoon salt and cook for 5 minutes.

In a large bowl, whisk together the eggs, yogurt, parsley, salt and pepper. Stir in the cooked vegetables. Divide the egg mixture into each muffin cup, making sure to evenly distribute the vegetables and eggs.

Place chunks of goat cheese on top of the eggs and bake for 25-30 minutes or until the eggs are set. Allow to cool then store in an airtight container in the fridge.
Notes
Makes 12 frittata muffins (1 serve is 3 frittatas)
Allow to cool then store in an airtight container in the fridge.
Can be frozen for up to 3 months. For best results, defrost overnight in the fridge or frittatas can be cooked straight from frozen in the microwave.
Nutrition Facts
Spring Asparagus Frittata Muffins (low-carb, gluten-free)
Amount Per Serving (3 frittatas)
Calories 324
Calories from Fat 216
% Daily Value*
Fat 24g37%
Cholesterol 424mg141%
Sodium 564mg24%
Potassium 324mg9%
Carbohydrates 5g2%
Protein 20g40%
Vitamin A 1785IU36%
Vitamin C 13.9mg17%
Calcium 145mg15%
Iron 3.7mg21%
* Percent Daily Values are based on a 2000 calorie diet.
Nutrition is calculated using a 3rd party plugin. Always check macros with your own ingredients and tracker.
To calculate NET CARBS using the nutrition panel above, Fiber must be subtracted from the Carbohydrates listed
★ Did you make this recipe? Please give it a star rating below!
If you like 30 minute recipes, FOLLOW us on Pinterest to get access to our collection of hundreds of 30 Minute Low-Carb recipes….
FREE KETO FAST-START GUIDE FOR BUSY MUMS WITH 3-DAY MEAL PLAN
Start burning fat in 3 Days without cooking 2 meals OR going HUNGRY!

You'll also receive FREE 30-minute keto recipes, training and our updates via email.

Read our Privacy Policy here